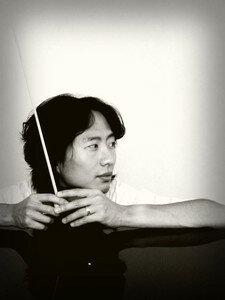 Yehun Kim was born in Seoul, South Korea, where he began the study of violin at the age of 6. He received his Bachelor of Music from Kyungwon University, where he studied conducting with Kyung-Soo Won, the Music Director of the Seoul Philharmonic Orchestra and the Stockton (California) Symphony.
Continuing his studies in France, Yehun received a chamber music prize from the Versailles National Conservatory and a unanimous 1st prize in conducting from the Dijon National Conservatory, where he studied with Jean-Sébastien Bereau, the former professor of CNSM de Paris. Yehun was selected as one of five young conductors for the Incheon & Arts Music Festival (Korea) by Festival founder, Myung-Whun Chung and studied with him. He has also studied at the Paris Conservatory with Patrik Marco, music director of the Maitrise de Paris and choral conductor of the Orchestre de Colonne. While in Paris, Kim founded and served as Music Director of the Paris Asian Chamber Orchestra, which is formed by young talented musicians in Europe.
In 2007, He moved to United States with family and served as an associate conductor of Southern Illinois Symphony Orchestra and Music Festival. He also played as a principal second violin chair of those orchestras. In 2010, Yehun earned his Master's Degree in Orchestral Conducting at Southern Illinois University at Carbondale and was named a finalist for Music Director of the Alton Symphony Orchestra. In 2011, he will be appeared as an assistant conductor at world-renowned 'Colorado MahlerFest' which was bestowed International Gustav Mahler Society Gold Medal in 2005. He is currently joined the Longmont Symphony Orchestra as an conductor & violin player in Colorado where he lives with his wife, Sunyoung Lee, a pianist, and their son, Daniel. (English updated as of Aug. 2010)
Yehun KIM est né à séoul, Corée du sud. Il a commencé le violon et entré au Kyungwon University college of Music. Il commence à travailler la direction d'orchestre avec M. Kyung-Soo Won alors directeur musical de Séoul Philharmonic Orchestra.
Arrivé en France, il a reçu un prix de musique de chambre au CNR de Versailles, un 1er prix de direction d'orchestre à l'unanimité au CNR de Dijon chez M. Jean-Sébastien BEREAU. Il a été sélectionné pour diriger au festival Incheon and Arts fondé par M. Myung-Whun CHUNG, et a étudie avec ce dernier ainsi qu'avec M. Aril Rammereit. Actuellement il fait ses études au CNR de Paris chez Patrik Marco, directeur de la Maîtrise de paris et chef de chœur de l'orchestre Colonne. (French updated as of Aug. 2007)
キム・イエフン

韓国ソウル生まれ。幼い頃からヴァイオリンを始め、キュンウォン大学に学ぶ。指揮をソウルフィルハーモニーオーケストラの指揮者であるキョンスー・ウォン氏に師事。渡仏後、ヴェルサイユ地方音楽院で室内楽のプリミエプリを、ディジョン音楽院で指揮をJ.P.ヴェロ氏に学び、満場一致の最優秀の成績で修了。その他、チョン・ミュンフン氏によるインチョン音楽祭に選ばれて参加。現在は、パリ音楽院でP.マルコ氏に師事。オーケストラ・コロンヌの合唱指揮者. (Japanese updated as of Aug. 2007)
E-mail: yehunkim@gmail.com